B A C K T H E N
Maine Team Tackles Glass Archive
Maine On Glass
The Early Twentieth Century in Glass Plate Photography
By W.H. Bunting, Kevin Johnson and Earle G. Shettleworth, Jr.
Tilbury House with the Penobscot Marine Museum; 210 pages; $29.95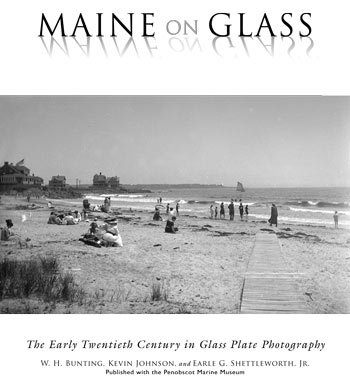 Before selfies, SnapChat, 35mm and larger format nitrate film, a light sensitive emulsion on thin sheets of glass was the means of recording photographic images. For today's young person who was born into the ease of cell phone cat photos, the glass negative process would seem oddly laborious. Mathew Brady made the glass plate process famous while photographing the American Civil War, 1861-1865. The popularity of Brady's Civil War work and of his personal fortunes would fade as rapidly as they rose. By the time interest his work, produced in a horse-drawn mobile studio on Civil War battlefields, was rekindled nearly a century later, camera technology and the popular accessibility to photography had changed greatly. Camera technology at George Eastman's Kodak film company by that time was sitting on the egg that would hatch into digital photography. That is before Kodak nudged it out of the nest only to be caught by Sony who ran it over the line and hatched it.
While the grim reality of battlefield horror brought back to Main St. for the first time in Brady's photographs proved to be something Americans would sooner forget, the same glass plate technology Brady used would produce images that Americans suddenly wanted in large quantities. Picture postcards had become wildly popular in the decade after Brady's death in 1896.
Belfast, Maine had a "resident photographer" in 1841, while Mathew Brady was still studying the new daguerrotype technology in New York City. When Herman Cassens opened the Eastern Illustrating & Publishing Company (EIC) in 1906, Belfast was a prosperous coastal city and "home to a an established tradition of local photographers." It would soon also be home to one of the nation's leading producers of photographic postcards. Kevin Johnson, Photo Archivist at the Penobscot Marine Museum wrote in Maine On Glass, "Postcards had become an absolute rage. Comparable to email, texting, or Instagram, the postcard was a new, informal way of communicating with brief text and an image." For scale Johnson noted that, "On one day in September 1906, 200,000 postcards were mailed from Coney Island. In 1913 the number of postcards sent in the United States alone was 968,000,000, more than seven per person."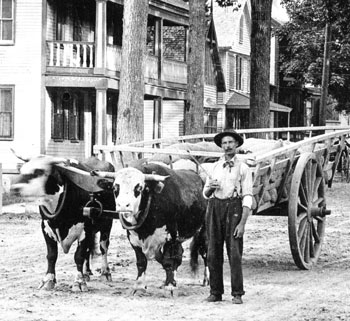 These statistics help explain what motivated EIC to send photographers in Model T Ford and Maxwell motor cars equipped with a box on the back to hold photography equipment and luggage – much like Brady had forty years earlier – into hundreds of the towns and villages of Maine, New York and westward to capture local living history and scenery to supply the postcard bubble. Intended to be marketable novelty images many of these photographs are data dense historic records of a people and places that would be transformed by the coincidence of some of the most significant technological, economic, social and geographic change in the nation's history in the first half of the 20th century.
Between 1906 and 1947 the Eastern Illustrating & Publishing Company would produce thousands of glass plate negatives and probably millions of postcards. This cache of glass plate photographic negatives, some a century old, through circuitous ownership, pilferage and near death experience in a flooded building has been preserved, cataloged and digitized at the Penobscot Marine Museum in Searsport, Maine.
The Maine team who took up the challenge of preserving the EIC glass plates includes Maine's leading experts in cultural, historical and photographic preservation - William H. Bunting, Earle G. Shettleworth, Jr. and Kevin Johnson.
William Bunting is the author of a number of books including Boston: A Portrait of a Port-1852-1914; A Days Work, Parts I & II, A Sampler of Historic Maine Photographs, 1860-1920; Sea Struck and others. Bunting in the introduction to Maine On Glass writes, "Whereas nineteenth-century Maine has attracted copious attention from historians, early twentieth-century Maine generally has not. Hopefully this book of images will help to cast some light on the lives of Maine people during those years in the shadows."
Earle G. Shettleworth is the Maine State Historian and Director of the Maine Historic Preservation Commission. William H. Bunting, in the understated words of E. G. Shettleworth, "is a master of interpreting the contents of old photographs".
Johnson was brought in to help engineer the preservation process for the EIC collection. Over 35,000 negatives have been scanned and catalogued and are available online through the museum. One of the products from this collaboration is Maine On Glass.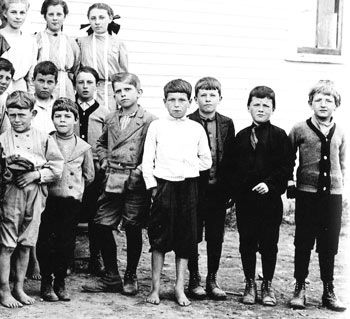 Bunting brings the viewer into photographs with a Sherlock Holmesian eye for every detail, nuance and context. Virtually rummaging around within the image, he points out details that contribute to the understanding of this particular thin slice of history. Bunting then delivers a summary informed by a range of disciplines from history, economics, agriculture, psychology, sociology to sailing the square rigged ship. But these captions are by no means academic exercises. The photo captions mix researched facts with irony, humor and social comment.
In his introductory notes Bunting, commenting on the 20th century struggle Maine faced in shifting from core industries such as shipbuilding, lumbering and others to a couple of large corporate entities, wrote, "Old State House powers-that-be were shoved aside as paper company and hydropower lobbyists took over the rump-sprung couches stationed outside State House committee rooms."
Unlike the staged, rigid early tintype portraits, stereo cards that appeared in the 1860s or the fuzzy focus color cards of the late 1800s EIC photographs were often planned, studied, composed, focused and printed using a wet printing process as real photographs.
Shettleworth observes, "In assessing the significance of Herman Cassen's contribution to the making of real photo postcards, it is important to understand the role played by Belfast's established reputation as a center of photographic activity."
The EIC photographs were not just of places and people, but people in places. The people in them were posing less than pausing to hold still for a few seconds for the camera shutter before moving on. In a photograph looking down Main St., Ripley, Maine ca. 1920, in the near distance the only person is a child of about 5 years standing in the middle of the gravel street, which winds through the village behind her. To the right of her is parked the EIC Maxwell and just to right of it, at the very edge of the photo, is the second person in the photograph watching the EIC photographer planning and taking the photo.
It may be that, since these photos were being sold to people, people are included in so many.
The EIC collection is a record of human life at a time when many non-human things were changing.