F R O M   T H E   C R O W E ' S   N E S T
Self-Ruled or Overruled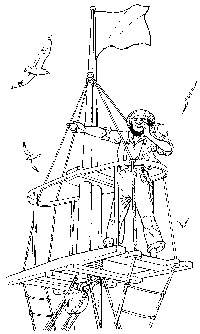 The people of Maine have been harvesting lobster as long as they have inhabited the coast. The storied levels of abundance at low tide that more often made lobster garden fertilizer than market product are well remembered. Canneries began packing lobster in the late 1800s. Cannery demand from national markets led to the inevitable crash in the lobster stocks. Demand declined and the stocks came back.
Lobster fishing was a seasonal fishery along with cod, shrimp, haddock, alewives, etc. The fishery continued this way until becoming a bit more profitable after 1945. Throughout, this territorially based industry was understood to be so by its participants. Entry was by the ancient means of familiarity, trust and reliability that have governed common resource use preceding the "dawn of civilization." Personal traditional fishing grounds were for the most part respected, passed on or relinquished voluntarily.
It was not until the 1980s, in the wake of the impact of large foreign factory fishing ships undermining groundfish abundance in the Gulf of Maine, that the long arm of regulation reached into the Maine lobster fishery.
Formerly, fishermen mailed in a small fee to secure a lobster license. There were no numerical trap limits. In the 1980s, trap limits were instituted. They were followed by trap tags, which were intended to be a means of tracking the number of traps in the water. As groundfishing and the other fisheries were declining in the 1990s, federal and state agencies restricted access to these fisheries and more fishermen moved into the lobster fishery. This led to governmental entry limits. At the same time lobster fishing zones were established along the Maine coast. The varied zone rules have disrupted access to traditional grounds without eliminating it.
Recent trap cutting incidents midcoast, with reference to all of the above, have been described as "complicated."
Limited entry has meant fewer lobstermen fishing, but more are fishing their 800 traps. Bigger boats, better gear, and more technology are increasing efficiency, harvest volume and profits. Amid all this it might be easier to forget what a great and rare privilege it is to be able to make a good living doing something you like in an environment you'd sooner be in, on a boat you'd rather be on, while living in like-minded communities.
The failure to self-rule may bring more and less favorable government rules. Self-ruled or overruled.