Local Herring Depletion Discussion Moves Forward
by Laurie Schreiber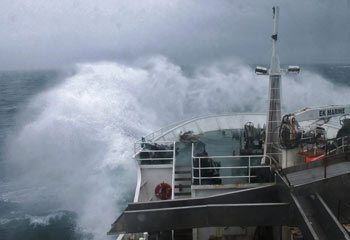 NEWPORT, R.I.—Things are shaping for Amendment 8 to the Atlantic Herring Management Plan, whose goals are to:
• Account for herring's role in the ecosystem, including its role as forage;
• Stabilize the fishery at a level designed to achieve optimum yield;
• Address potential localized depletion and user conflicts in inshore waters:
• Implement an Acceptable Biological Catch (ABC) control rule that manages herring within an ecosystem context.
At its November meeting, the New England Fishery Management Council (NEFMC) heard the latest report on the amendment's development, which incorporates public input and technical analyses.
"Given intense scrutiny of what we've been doing and concern regarding midwater trawling…we need to address it as soon as we can," said NEFMC member David Pierce. "It can't be pushed off to the side."
NEFMC member Mary Beth Nickell-Tooley offered a counterpoint. "I also want to make sure, at this table, that we keep the state of Maine in mind" as the amendment moves forward. Potentially, she said, "the impacts to our local communities in Maine are tremendous" given the role of herring that's used as bait in the lobster fishery.
NEFMC's schedule calls for approving of a range of alternatives in the amendment at its Jan. 24-26 meeting, although NEFMC staffers said that date might be optimistic, due ot the need for more data-gathering and analysis.
There are number of uncertainties in the scientific data around the resource. Those revolve around levels of recruitment and natural mortality, growth, and stock assessment bias.
In related business, NEFMC received an overview of alternatives under consideration, in Framework Adjustment 5, to modify the Georges Bank haddock accountability measures (AMs) that apply to the herring midwater trawl fishery.