Sid Look, Generations in the Fishing Business
by Sandra Dinsmore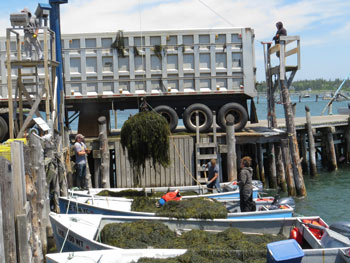 Bert Sidney Look, III, known to all as Sid, is the third to carry his family name and the third owner of O.W. and B.S. Look Co., Inc., the oldest family-operated lobster-producing company in New England. Sid expects his younger son, William Frederick, called Bimbo, to continue the family business, its name now shortened to Look Lobster. Sid's older son, Bert Donald, sells the lobsters he traps to the firm founded in 1910 by Sid's grandfather and his great-uncle, retired sea captains.
Sid said his grandfather, Oscar William Look, at age 18, captained a two-masted schooner, shipping fish to the West Indies from Jonesport and returning with sugar and molasses, which they trucked to Massachusetts and New York. Jonesport had two large shipping businesses.
The year Oscar's first wife died, 1910, the two sea captain brothers retired from the sea at the then-venerable ages of 38 and 40 and returned to Jonesport. There they bought a general store and started buying fish and scallops from the surrounding islands and selling them in the same building where Sid now works the phone. Sid's grandfather also added another business, a silver fox farm; Sid's grandmother sold house insurance. Business, Sid said, was done on a handshake. Your word was your bond.
Sid's grandfather died, in 1941, leaving Sid's father, Bert, II, to run the company. When the young man, overwhelmed at having to run two businesses, went to a colleague of his father's for advice, the man advised him not to sell the fox farm because the price for pelts was high. Although Bert, II, dreaded having to deal in fish, about which he knew nothing, he told Sid he sold the fox farm because he could sell that business faster than he could sell the fish business. "Not six months later," Sid said, "the pelt business went to pieces. He lucked out."
But B.S. Look, II turned out to be what Sid calls a sharp businessman. In 1942, Sid said, "The fish business started taking a turn for the worse," so his father started buying lobsters, and later that year, he built a tidal lobster pound right next to the office building. "He was buying a lot of Canadian lobsters and pounding them," Sid recalled. At one time he said the company had two lobster pounds in Maine and three on Grand Manan Island, in Canada. Now Look's only has three tidal pounds because, Sid said, "Pounds are on the way out." He explained that lobsters are shedding at 4 1/2 months instead of once a year. He thinks the faster shed is due to global warming and tested his theory earlier this year. "We put early shedders in a pound," he said. "When we took them out after 4 1/2 months, 25 percent had shed again. That explains the increase in production in Maine and parts of the Maritimes."
Sid's father also became an oil distributor for Texaco and what is now Citgo. In 1961, according to Sid, his father was selling 7 million gallons of heating oil, 1 1/2 million gallons of gasoline, and running two to three other businesses. (He sold out of the oil business in 1978.)
Sid, who was born in 1943, started working for his father at age 12, banding lobsters and worked his way up the family business ladder except for his 16th summer, when he tried lobster fishing. "I fished for probably three months; had thirty-four traps, and that was it," he said, adding that he preferred working on the dock, working with people.
By the next year, Sid was shipping lobster to New York by train. He said, "You'd put a barrel of lobsters on ice and ship them.
"It's not uncommon today for people to be shipping to Rome, Paris, China, wherever it might be, but twenty years ago," Sid recalled, "that was a whole new business in itself." He used to ship lobsters abroad, packing them in Styrofoam boxes with gel ice, until he ran awry of the Federal Department of Agriculture [FDA]. After being told to comply with all kinds of red tape, Sid gave it up. He now ships lobsters to the US and Canada with his four trucks and enjoys the respect of everyone with whom he deals. Sterling Fitzhenry, owner of a lobster pound with a chill house in Cutler said, "I've pretty much sold him everything I've had for close to 20 years." Asked why, he replied, "Mainly because he's honest, and when I shipped out 60,000 or 70,000 lbs. of lobster, I knew I'd get paid." Sid sells a couple million lbs. of lobster a year.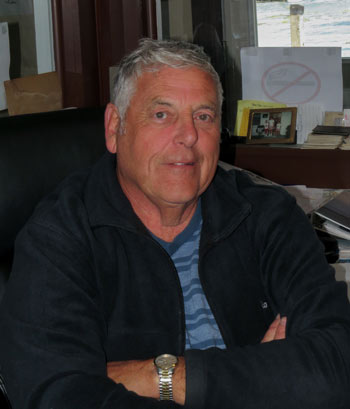 In addition to working for his father, Sid, together with his wife, Sharon, had their own business on the side, called, Sid's, Inc. They had 15 tractor-trailers hauling fruit and produce out of state. They turned the trucking company over to Bimbo, then 20, when Sid took over the family business at his father's death, in 1986. Although the business grew to 25 trucks hauling produce and fish out of the Maritimes to the West Coast, Bimbo sold the business in the late '80s.
He now handles Look's bait business. He designed and built a herring receiving station in Jonesport and regularly takes in 700,000 to 800,000 lbs. of herring from a single herring seiner. Sid said the largest amount Bimbo ever bought was 850,000 lbs.
Asked what part of the company he now handles, Sid, 73, said, "I pound the phone, sell lobsters, run a truck, fill in for my crew. We move a lot of seaweed (rockweed)," he added. "We ventured into the seaweed business. We transport and broker seaweed. We're moving seven or eight tractor-trailer loads a week during a five-month period each year." Look does not harvest rockweed.
Selling a product to feed cattle that's been ground up so that it no longer looks or smells like seaweed has been tremendously successful, Sid said. "They don't have enough to fill orders." (Sid says they grind up the seaweed such that it ends up looking like grains of white sand or salt.)
The company Sid sells to, Acadia SeaPlants of Halifax, Nova SCotia, Canada is currently harvesting part of the downeast Maine coast. Although seaweed on the beach is free, harvesting and turning that free saltwater plant into a product you can make a profit on isn't. "It takes a lot of money," Sid said. "It's quite expensive."
He said Acadian SeaPlants works with the State of Maine. As Sid put it, "They pitch [how much they plan to cut] to the state, and if the state doesn't think it's a good idea, they won't let them do it." "They only cut so much," Sid stated, adding that the state monitors what's been harvested. " Cobscook Bay, between Eastport, Maine and the Canadian border has a separate more contemporary and comprehensive set of rockweed harvest regulations in place than the rest of the Maine coast. It's in the interest of both parties to want to have the seaweed grow back. It's a successful business that's been building for about 35 years.
But the work of harvesting seaweed is physically hard. "It wears you down," Sid observed. "You're bending the seaweed and lifting over the boat. You have to be pretty rugged." He said the company is always looking for more people to harvest seaweed. They supply boats for harvesters to use.
"In my opinion," he stated, "the next fairly big blast through Maine will be the seaweed business. Everything has its heyday." He gave mussels as an example and said, "Thirty years ago people used to jump on 'em. Now they're $3/lb. and are considered a delicacy." Given time, Sid said, "I think they'll be harvesting the whole coast of Maine."
Look Lobster has diversified just as the old O.W. and B.S. Look Company did under Sid's grandfather and father. B. S. Look, III has kept pace with his sea captain grandfather and his sharp businessman father, and he continues to do business on a handshake.