Richard Stanley
First Wood Hull, Glass Top Boat at Bass Harbor Yard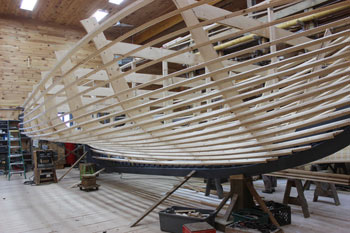 Richard Stanley has for a number of years said the life span of a wooden boat can be greatly extended by building the top with fiberglass. Having literally grown up knee deep in the wood shavings of his legendary father Ralph's wooden boat shop in Southwest Harbor, Maine, Richard is well aware of the effects of fresh water and sun on wood.
He is, as a boat designer and builder, as is his father, aware of the differences in design outcomes between these two very different boat building materials. The differences have been worked out in a custom boat building plan to the satisfaction of the owner and the builder. The custom fiberglass top will reference a traditional wood top design with the traditional trim and hardware that would have been used on a wood top. The top will be foam cored under fiberglass molded to the Richard Stanley design.
The top includes the forward deck, side decks or wash rails, the small deck over the transom, wheelhouse cabin sides and top, and the shelter that overhangs the back of the cabin. The working platform or work deck will be douglas fir. The owner will be using it for lobster and tuna fishing as well as six-pack fishing charters.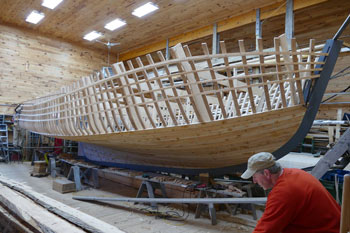 When the left photo was taken in late October 2016 the traditional wood keel had the molds centered vertically on it and horizontal ribbands were bent into place over the molds. The next step was to bend the steamed timbers or frames vertically against the inside of the temporary ribbands.
The plan is to complete the 32' boat in late winter or early spring of 2017. Ralph considers this combination of materials and building methods the best of both boat construction methods. The stability and steady ride of a wooden hull combined with the lifespan of a fiberglass top's protection of the wood hull under it is why Richard calls this the solution boat.