On the Water 2011: Be Seen, Be Heard, Be Safe, Be Found, Voice of Safety
by Ann Backus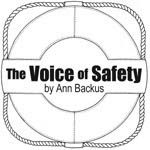 Ann Backus, MS is an Instructor in Occupational Health at Harvard School of Public Health, 665 Huntington Ave., Boston MA 02115, 617/432-3327, abackus@hohp.harvard.edu
Summer in the Northeast means that fishermen share the water with many different kinds of boats and boaters. Some boaters are experienced; some are novices. This article is written with recreational boaters, especially kayakers, in mind.
Be Seen
As fishermen and other boaters will tell you, kayaks are one of the most difficult boats to see. The reasons range from color of the kayak such as a low visibility blue, to the condition of the water—waves for instance can obscure a kayak from view, to the quality of the light and visibility—high glare or fog present major visibility problems. As a kayaker myself, I try to remember that I may not be visible to other boats with which I share the water.
To improve visibility, 4-foot flags are available for kayaks from marine stores or on online. The high-end ones come with a light. All of them require a mounting bracket unless the kayak is already equipped with a bracket. Those that collapse to a little over 12 inches are easily carried with other gear. In a location where there is considerable boating traffic or the need to cross a wide lane or channel, a flag could reduce the risk of collision.
Be Heard
Safe boating requires that we are able to make ourselves heard in foggy or low light conditions. I suspect that many kayakers do not carry air horns, and it seems also that kayak rental centers do not include them with the PFDs and paddle floats. Therefore, whether you own kayaks or rent them, purchasing several marine air horns is good insurance. You have a choice of a canister style with compressed air or an air horn you just blow into. When purchasing, look for one that can be heard for a mile.
Be Safe
Personal Flotation Devices (PFDs) are a must in small boats and especially kayaks. In addition to the usual bulky life jacket which I like because it provides a cushion for my back, there is a wide variety of PFDs available: canister PFDs with manual or automatic inflation and fluid inflatable belt packs that inflate manually when needed. Be sure the one you purchase is approved by the US Coast Guard.
Other safety devices include compass, charts, sunscreen, sunglasses (to avoid cataracts), and a hand-held GPS that provides route tracking so that you can return safely when the August evening fog rolls in. Remember to pick up and carry extra batteries of the correct size for the GPS. Oh yes, a flashlight might be a good idea. A bilge pump to clear out the water when you capsize, a rope sling and paddle floats to help stabilize the boat as you re-enter are also musts for kayakers. For some entertainment, take your kayaks to calm shallow water and practice using the sling and paddle floats. Last year my son thought it would be a good idea to have his novice boater fiancée practice with the paddle floats; after an hour of practice they returned to the cottage tired-out from trying, but glad to have had the experience.
If you rent kayaks, it would be a good idea to watch a video at the rental center or check out the process on the web before you venturing forth. Oh, and grab an extra paddle for your group, break it down and strap it on the stern. Snacks and water for everyone are also a very good idea.
Be Found
A recent addition to the safety gear of recreational boaters, kayakers included, is the Personal Locator Beacon (PLB) or the personal EPIRB (P-EPIRB), an electronic position indicator radio beacon. If you are new to this type of equipment, read up on it before purchasing. Key ideas include: purchase only a 406 MHz beacon as other radio frequencies are no longer monitored; get the added benefit of a GPS-equipped beacon which will provide exact latitude and longitude coordinates to the rescuers; and register the beacon—a requirement—with NOAA so that the COSPAS-SARSAT system has an identification profile for your beacon signal. Remember to test it when you get it and periodically after that using the test button or the test protocol provided with the unit. My P-EPIRB is due to be re-registered with NOAA – which is required every two years.
Have an enjoyable and safe summer on the water!