Crazy Guy Bicyling to Top of the World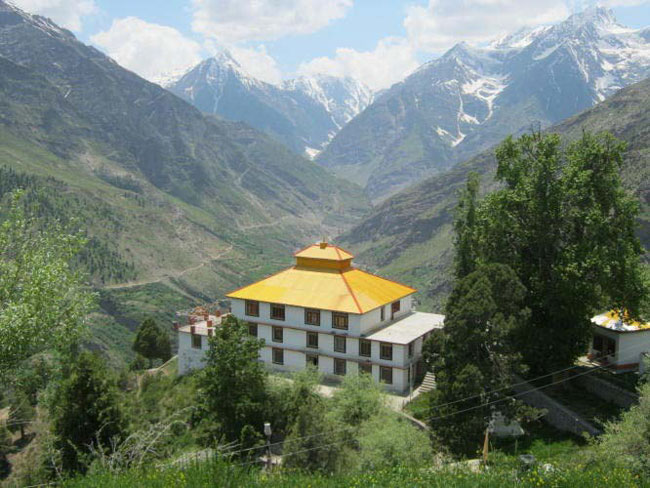 An American bicyclist who left Bucharest, Hungary, on a bicycle loaded with four saddlebags in August 2010 is now on his way up the Himalayas. After bicycling south through Europe and across India, he sailed to the island of Sri Lanka off eastern India.
While New England was being hit with 24-inch snow storms and sub-zero temperatures, the bicyclist was plowing through 95/95 weather—95 degrees and 95 percent humidity. This spring he returned to India and headed north.
The roads around Indian cities can range from reasonably well-paved to intermittent paving filled with craters. Indian drivers careen along at high speed in an apparent bid for front page crash coverage in the next day's newspaper. Rural roads run from decent gravel to washed out. All the roads he travels seem to go over hills and mountains.
Crazy guy on a bike is the name of the bicycling website where this guy posts the story of his travels. Couch potatoes may settle for using the title for the site and the cyclist. http://www. crazyguyonabike.com/doc/?o=RrzKj&doc_id=7602&v=DP
To date almost 1200 of his photographs have been posted. He posts a narrative on the cycling conditions and on his own condition, the roads, food (not tour de France), weather, the people, restaurants, and guesthouses. Don't think 5-star hotels, this is a low budget tour. One restaurant served a huge meal he couldn't possibly finish. The waiter took away the unfinished portion and dumped it back into the pot his serving had come from. Bon appetit!
On the other hand he describes what sound like great meals for the price of a convenience store cup of coffee and donut in the U.S.
People from around the world have been going to the site, some communicate with him via email. Wireless email in Indian jungles and the Himalayas? He is apparently carrying a small laptop and a digital camera. Transmissions are made whenever possible, sometimes daily but more often every few days.
Crazy guy's writing is good and his observations interesting. There are photographs of remote villages, urban back streets, rural beaches, meals, festivals, near vertical mountain roads, temples and spectacular views.
While many of us may be looking forward to retirements with demands limited to doing 180-degree rolls on the lazy boy reaching for the remote, this 65-year old crazy guy on a bike obviously has other plans.
Around July 4, 2011 he was at about 14,500 feet and writing about thinning air, not hair, and altitude sickness.