Harold Gower
Boat Builder, Part I
by Brenda Tredwell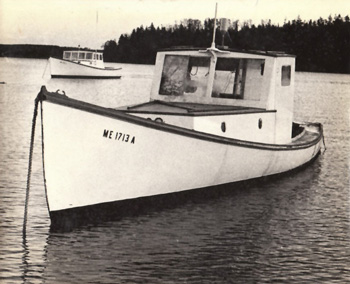 Nella Bernice (Alley) Gower kept the ledger for Harold Gower's Boat Shop on Beals.
Gower built 111 boats altogether, but there's a gap in the books where the 110th boat should be. That one was built for Lewis Alley of Stonington and it was the only fiberglass boat Gower ever built.
Doug Dodge shakes his head, pointing to the blank in the Ledger, joking "Nella couldn't bring herself to count fiberglass." Dodge was Harold and Nella Gower's adopted son.
Before building this fiberglass boat, Gower said to Lynn Franklin during an interview, "Well, do I think I'll build a fiberglass boat? No, sir. The fiberglass might last, but I don't think the men who build them will last very long."
"Maybe they'd improve fiberglass – Just the way we improved wooden boats," added Gower, "They say you can't shoot a rifle bullet through a fiberglass hull. Won't penetrate it. They say you can hit it with an axe."
Gower's Business Ledger documents all 111 boats built from1936 to1972, including orders from Andrew Gove (Stonington, Victor Ames (Vinalhaven), Donald McLane (Long Island, Portland), Robert Young (Belfast). Dodge mentioned that when he was working on Red Baron, Glen Holland gained inspiration from Gower's design, looking over Young's boat.
Flipping through Gower's Ledger, Dodge reads, "Philmore (Pinto) Crowley earned $60.00 one week…. There's Gordon Backman – Benny's son…Nathan Burke – he got done in 1972...." Gower's workers included Donald Drisko, Clifford Alley, Richard Alley, Vincent McLane, Alvin Beal, Riley Beal, Willis Beal, John Woodward, Ulysses Merchant.
"Gower's main man was Floyd Beal," said Dodge. "He started in 1941 after Riley Beal went on his own. Floyd was the brother of Mariner (Lovey) and Vinal Beal."
In 1925, Will Frost contacted Gower, who left Westport, Brower Island, Nova Scotia to work on Beals. From 1925 to 1929, Gower worked at Frost's. A signature feature on Gower's boats was the reverse curve (rather than barrel-bottom) he learned from building over 100 boats at Frost's shop.
Frost built an estimated 650 boats, total. To attract sales, he was always searching for innovation in his designs - to increase speed. The stock market crash caused customers to stop payment – bankrupting Frost. Gower bought Frost's shop, in Barney's Cove, with Riley Beal.
After going on his own, Gower continued Frost's practice of fitting brass ferrules on the ends of shaft logs for each boat. These components were cast along with the rudders at a foundry in Gardiner, ME. Boat number one was Belva M (32 x 8) built for Elmer Alley of Prospect Harbor. Alley paid $375.00 – engine included. It took 10 weeks to build. Gower and Riley Beal each earned $80.00 for labor.
Elmer Alley ordered another boat in 1949. This 34 x 8 -1/2 boat had a Buick engine, and cost $2,000.00. A half hull model of Gower's first boat, Belva M, and a photograph taken of her hang above Dodge's work bench.
Carol Davis recalls, "I clearly remember the day the boat shop burned. My mother looked out her window and said, 'I believe Harold Gower's boat shop is on fire.' The black smoke was rolling. I never felt as comfortable going into the new shop as I did the old. But loved to watch Harold work."