Lobster Boat Racing - 2010
by Brenda Tredwell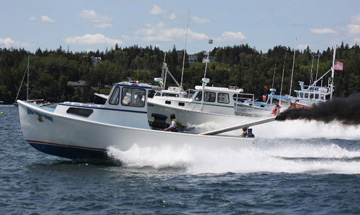 There has been some tension in lobsterboat racing around the issue of "modified boats" – those with super-charged engines.
One racer put it this way—"Modified boats should race in a modified class—most racers don't have engines that are all 'jacked' to pieces. One guy in my class is pushing 400 horse out of his engine, and I got a stock 210 from right out of the crate."
But it won't discourage that racer from the rush of flying down the course. Others argue the biggest draw for the crowds are those pumped boats. Most lobster boat racers in the circuit know if you take those boats out of the mix, you lose spectators.
MLBRA President, Jon Johansen, acknowledged some of the residual conflict still brewing after the 2009 season, where there was a near-collision of two modified boats in Searsport between Galen Alley's Foolish Pleasure and Ellery Alley's Underdog. Johansen said that some of the guys down around the Jonesport venue were 'running hydro-planes' which are not sanctioned by the Association. Johansen stressed that liability is not the responsibility of the MLBRA.
One race chairman has said that high speed liability is a "grey zone" and there have been times where rules have been changed because of specific incidents.
As far as the incident in Searsport between Underdog and Foolish Pleasure goes, "There are two different stories, two different videos, and differing opinions coming from witnesses." There are also some things left on the plate that weren't addressed in October, and those things will very likely be brought up at the Forum in March.
Johansen said that no rule changes could take place at the Fishermen's Forum, and that the MLBRA reviews rules in the Fall. Changes to the By-Laws only take place at the Annual MLBRA Meeting during the October Awards Banquet. Also, that is when the election of Officers takes place.
Searsport Co-Chairman, Travis Otis said that, "Things are pretty much going forward, as far as the introduction of Portland – as a lobster boat racing venue – go." The Portland Races are not a points race, but people donate their time, because the MS Regatta is a Multiple Sclerosis benefit, and funds raised go to an excellent cause. Otis explained that the order of events has still not been set, but the sailboats will race on the Saturday of the weekend event. Tugboat Races, and the Lobster Boat races will be held on Sunday. The order of the races has yet to be determined.
Otis wanted to make it clear that members need to keep current with annual dues. The $20 fee helps the association pay for insurance and expenses.
While no other venues reported any change, Henry Barnes will be the 2010 Race Chairman at Harpswell.
Gene Landry of Persistence Media, who had filmed Racing in the past, spoke of his project which is currently on ice: "It's not dead. And I don't think I'm done with it." If he had the backing to hire people to do more filming and editing, He'd do it in a moment. He still feels very passionate about lobster boat racing.