South Bristol has deep boatbuilding roots. Like its namesake, Bristol, England, the town has seen a lot of great boats, large and small, slip down the ways. Quite a few of those boats have been built by Bruce Farrin and his two sons, Bruce, Jr. and Brian. In May, one of the three nearly completed boats in their shop was a 42' sport fisherman — it's number 180 for the Farrins. Bruce recently estimated his production at about half commercial and half pleasure boats.
Over the years, he's done both one-offs and serious production. At one time he was doing seven boats a year, but he found it was too much of a grind. He said he has comfortably settled into doing a more manageable volume and a variety of projects, which his crew also likes. It allows them to go at a pace where they can do quality work. Farrin refers to his approach to finishing pleasure boats as building "common sense" yachts. There is enough varnished wood, for example, to make them look good and be comfortable, but without huge refinishing and maintenance demands. "The amount of refinishing in them is something a couple could handle," he said.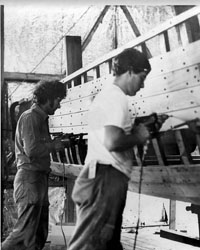 Bruce Farrin (left) and Eddie Simms fastening planks
to the 36' lobster boat Shearwater at his shop across
from Gamage's. This was his third boat. He has gone on
to build 179 more. The nearly finished #180 is currently
in the shop.