F R O M   T H E   C R O W E ' S   N E S T
This Shifting Marine Scape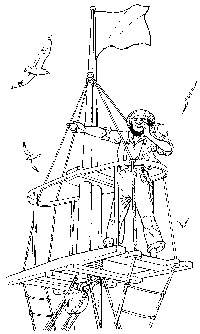 At one time lobstermen might have said their biggest concern, after catching enough lobster to make the effort worthwhile, was knowing who was leaving active fishing and who would be allowed into their local fishing grounds.
Today the range and number of individuals, industries, corporations and government agencies with an eye on using that same marine space is unprecedented. That demand will continue to broaden and intensify. Rather than the traditional use of local channels for gaining accepted resource access, as with lobstermen in the past, today a move to gain access may begin far from those coastal resources. Strategies for gaining long-term access rights to marine resources, development and consolidation may begin with a PR person, lobbyist, lawyer or a politician, rather than a neighbor.
Influence may begin at the federal, state and/or town government level. The effort to build an LNG terminal in Harpswell and later in Eastport, Maine began in Washington, DC. It was part of a larger multinational corporate plan, that included Canada, to move gas, oil, chemicals and power through Maine. It ended or at least was sent into hibernation, following a long, less well funded opposition by the public who would have ultimately carried the cost and lived with the consequences.
An example of the unpredictability of the types of demand is the unfolding challenge to Maine ports presented by international cruise ship corporations seeking access, passage and depth for docking facilities. Effectively temporary container ships for humans, cruise ships empty thousands of passengers onto town infrastructure for a few hours. These ships displace pre-existing uses for fishing boats, fishing gear and the movement of other vessels. Their arrival, presence and exit cannot be ignored. The benefit to a host port from a self-contained floating city arriving? Not much, according to businesses in these ports.
The case in the Maine State Supreme Court regarding access in the intertidal zone has potentially much more far-reaching and permanent community marine resource consequences. The case, initiated by two coastal residents, could have coastwide consequences in Maine, but the driver is the Canadian international corporation that wants access to Maine's rockweed. Access the current administration in Augusta appears willing to hand over long term for a pittance.
The outcome of this case may change if, who and for what reasons the public can enter and use the historically open intertidal zone in this shifting marine scape.