Wrapping Up the Fishing Season?
Or Not?
Ann Backus, MS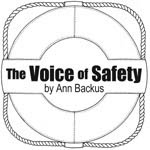 Here we are in October. Are you wrapping up your fishing season or wrapping up yourself to continue fishing into the winter?
Wrapping up the season
If you are closing up shop, so to speak, for the season, then you are hauling in your traps and rope and probably hauling out your boat. If you don't do it routinely during the summer, this is the time to rinse your rope in hot water to which you have added a little bleach – but just plain hot water is also fine. Some lobstermen have hot tanks on board that accomplish this cleansing task very well.
Why all this fuss? The algae that accumulate on the rope during the fishing season are home to bacteria which die when the algae die. These "gram-negative" bacteria are not harmful to us humans until they die, at which point the decaying cell walls release a dusty substance called endotoxin. When you then proceed to handle dry rope or inspect it for flaws, or leave it inside in your workshop, the endotoxin dust is released. We know that endotoxin dust that you breathe in can result in cough and chest tightness. In addition, a 2015 study by Zhong, and his team of researchers at the Harvard Chan School of Public Health, noted that endotoxin can also increase blood pressure. Take precautions then and clean your rope as you retire it for the season.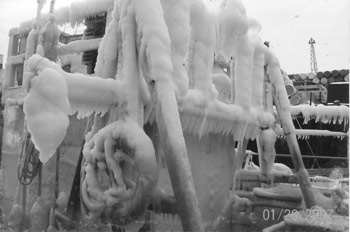 Your boat may need a little extra attention at this time as well. Once it is hauled out inspect for corrosion, check steering gear, packing gland and bearings; inspect the zincs if you have them and the through-hull fittings. Fred Mattera, a marine safety trainer with NESTCO in Rhode Island, has developed a comprehensive maintenance checklist.
Or Not?
If you are continuing to fish, my guess is you are either going to be changing to gear for lobstering in deeper, off shore waters, or outfitting your boat for scalloping.
To whatever degree we trust long range predictions, apparently both NOAA and the Farmer's Almanac are predicting a colder and snowier than normal winter for 2018. Given that recent storms such as Harvey and Irma have been more intense than the average storms, we might have reason to believe these predictions. But in any case, we should be prepared.
Fishing off-shore means, longer transit times and therefore more exposure to a variety of weather conditions. In addition to being sure that your rubber hoses are not fragile and ready to crack with cold temperatures, check your fuel lines for wear and pin-holes, reaching around the lines to check the sections you cannot see. As batteries struggle more in cold weather, be sure they are reasonably new and still able to take and hold a charge. Perhaps a spare would be a good idea. The bilge pump should not be on its last legs either. There are lots of other maintenance tasks we could mention here – I presume you have your own list of them.
Should an accident happen, the four W's come into play: Weather, water, waves and wait time (for rescue). As you switch over your gear for winter fishing, you may want to consider these tasks related to self-rescue:
» Life raft: Recently repacked according to manufacturer's recommendations? Hydrostatic release attached correctly? Refresh knowledge of correct deployment of raft?
» EPIRB: Batteries fresh, unit tested, and crew knows where it is and how to activate it.
» Immersion suits: Still fits? No tears/Zipper waxed with synthetic wax or bees wax? Kept above deck when underway?
» PFB: Shouldn't this be the season that you don a PFD? There are many styles available now, some of which are easier to work in than the older versions. You are a first responder for yourself as well as for others until help arrives!
» VHF radio: In working order? Tunable to Channel 16? Everyone on board knows the protocol for MayDay calls?
» Tow rope: If you have space, a tow rope might be a good addition. Need a refresher on how and when to tow?
» Dockside exam: Most of the above-mentioned preparations will be checked during a dockside exam, so that might help ensure your winter readiness.
» CPR/First Aid Refresher: During the weeks between seasons, is a good time to sign up with your local Red Cross or Heart Association for this training. You could organize or join a community-wide session.
Finally, a word about center of gravity and icing. If you are one of the many lobstermen who switch to scalloping for January, the best advice is to set-up to "tow low." A structure above the waterline, such as an A-frame raises the center of gravity of the boat, which in turn increases the risk of capsize in the event of a rogue wave or a hung-down drag.
Icing also raises the center of gravity. Ice is heavy. Ice on the deck and pilot house raises the center of gravity and ice on a superstructure extending above the deck raises it even more. Be aware of icing if the air temperature is below the freezing point of sea water (28.4 degrees F) and the wind speed is more than 13.6 knots/h. Also the colder the sea water, the more likely the spray is to freeze. To remember these numbers, think 28 for air temperature and half that, 14, for wind speed. Check the weather report frequently and/or check in with Dial-a Buoy at www.ndbc.noaa.gove/dial.shtml for the weather conditions where you are headed. Before heading out, though, in the winter, develop a plan that you like for checking on weather. The NOAA Ocean Prediction Center has an option listed as Probabilistic Guidance for Wind Speed at www.opc.ncep.noaa.gov/windprob.shtml.
If you encounter icing, and it is safe to do so, decrease your speed and head for the lee side of an island or bluff. Oh, and be sure with all winter fishing that you have warm clothes and protection for hands, feet, and face against frost bite.
Preparations at home
A new version of RESCUES: Responding to Emergencies at Sea and to Communities Under Extreme Stress has been developed for Maine and New Hampshire. This handbook contains a wealth of information about preparations you can and should make at home such as ensuring that family members or designated contact persons know how to access legal and financial documents, bank accounts, critical pins/passwords, etc. This handbook is available at https://cdn1.sph.harvard.edu/wp-content/uploads/sites/82/2012/09/RESCUES_Maine-and-New-Hampshire-screen-version.pdf.
Have a safe and productive winter.
Ann Backus, MS is an Instructor in Occupational Health at Harvard School of Public Health, 665 Huntington Ave., Boston MA 02115, 617-432-3327, abackus@hohp.harvard.edu.