Marine Electronics Provides a Hedge for Modern Fleet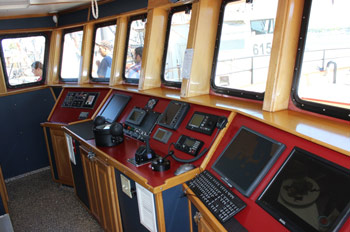 Marine electronics in commercial fishing have become nearly as essential as engines. In fact they are mandatory in some cases, as in the federally required Vessel Monitoring System and the Automatic Identification System.
It is possible to fish without a lot of the marine electronics available, but not likely as profitably or as safely. New technology is being introduced constantly as are upgrades to existing technology. New more complicated marine electronics technology comes on line so frequently that many boatyards contract with electronics specialists to wire and install systems in new builds and retrofits.
Dave Frank at Chris Electronics in New Bedford, Mass., said, "Radar has changed a lot in the last five years. The new radar has a better signal, better processing technology and image quality. Bottom sonar has also got much better detail, is more reliable with better crisper images and color, all while consuming less power."
Chris Electronics began doing business in the 1960s when Christian Hegland, a New Bedford fisherman, started the business. Hegland was among the first to put electronics on fishing boats. Christian's son Robert took over the business in the 1980s. Bob Dixon, a Senior Chief Electronics Technician with the U.S. Coast Guard, later became a business partner with Robert Hegland. In 2000 Dixon bought out Hegland and in 2011 Dave Frank bought the company.
Bob Dixon still works in the testing and repair shop as well as on projects aboard boats. Frank said Dixon "knows marine electronics in and out." The company under Frank started with three technicians and today has seven. Three have FCC licenses with radar endorsements and all seven hold National Marine Electronics Association certifications.
Back in the 1980s, before the ground fishing industry ran into multiple problems that caused it to shrink, there were 10 Furuno dealers in New Bedford. Today Chris Electronics is the only full-service Furuno dealer. "Chris Electronics has expanded a lot in the last few years," said Frank. He added, "There are one-man marine electronics shops in the area, but Chris is the only full-service, staffed and stocked" marine electronics business.
More than 300 vessels are home ported in New Bedford and another 200-plus vessels are part of the summer fleet. The summer fleet includes boats that come from southern states, primarily Virginia, to fish in New England in the summer. With that many vessels all running marine electronics, demanding service situations are bound to arise.
Dave Frank's marine electronics experience started in the pleasure boat industry. Before Chris electronics he was at the Hinckley yard's electronics department in Portsmouth, R.I., where he worked on recreational boats and did the electronics for America's Cup campaigns. "The recreational boat business is seasonal at Chris. The commercial business is year-round and always takes precedence," said Frank. "We provide the support they need, when they need it. It is not uncommon to get a call from a captain who says he is leaving in five hours, the boat is loaded with ice, the electronics are not working and he needs help. We are prepared to go when needed and work toward a same-day turnaround."
When Chris does an installation on-site, they will have three people on the boat—two on the mast, and one doing the helms and steering. It takes the three-person crew six days to complete a full installation on a 100-foot boat.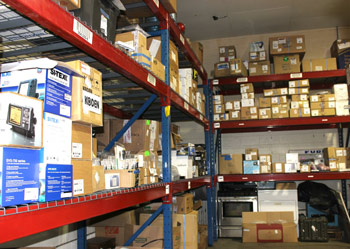 The company has a full-service analysis and repair shop at its MacArthur Boulevard location. They also have a warehouse stocked with a complete inventory for swap-outs. New inventory warehoused on-site includes electronics equipment from radar to fish finders and all the fasteners, wiring connections and parts, all ready to go. Maintaining an inventory of equipment and parts reduces down time for customers by eliminating delays from out-of-stock suppliers and shipping time, said Frank.
Marine electronics for commercial fishing may have started with a VHF radio, but today it can include computers, radars, sonar, communications, satellite communications, entertainment and steering systems. The 100-foot New Bedford scallop boats that fish offshore on 10-day trips rely on accurate, dependable electronics to keep them optimally functional, maximize the volume and quality of product, keep them out of closed areas and return them to port intact.
Chris travels long distances to southern and Gulf of Mexico ports. As this was being written, they were en route to Coden, Alabama, where they expected to spend six days installing all the electronics on a new 100-foot scallop boat. The company's regional range is from Rhode Island to Portland, Maine. The company provides support services to about 15 boatyards and fleets. Among them are the Reinauer Tug Fleet in Boston, Boston Harbor Cruise Ships, Massachusetts Bay Line Ferries; Boston Pilots Association; Shafmaster boats in Newington, N.H., and the tug Andrew MacAlister in Portland.
With New Bedford being the largest fishing port in the United States by dollar value of landings, it will likely be a center for continued marine electronics evolution. With all the wild cards that can be turned over on a commercial fishing trip, marine electronics will continue to be seen as an investment in improved odds for an optimum result.