Winter Harbor Lobster Boat Races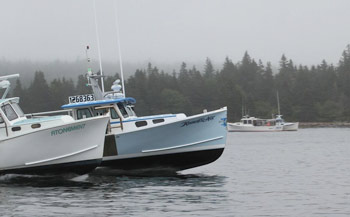 Winter Harbor lobster boat races drew a lot of boats this year. The thumbnail guesstimate of the on-the-water and the shoreside spectator crowds was that they were "big."
Perhaps because Winter Harbor is a border town of sorts between the foggy west'ard and the often-foggy east'ard, the morning started thick o' fog and raining. At 9:58 a.m., almost predictably, the fog lifted, the rain stopped and race committee chairman Chris Byers declared the races on. There were 101 boats registered to race.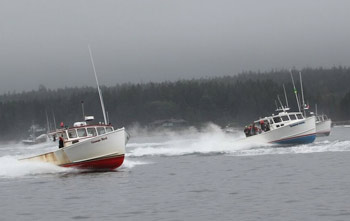 Boats immediately left the inner harbor to raft up along the racecourse. But this was a lobster boat race, so it didn't start two minutes later at the scheduled 10 am, or even 62 minutes later. But they did start and there were some good races among the 26 that were run.
Halfway through the lineup, rain returned for the remaining races, then let up for the after-races shoreside social events, awards, trophies and prizes.
Among the prizes were custom awards from Nautilus Marine Hardware, bronze hardware from R.E. Thomas Marine Hardware, a bundle of a thousand $5 bills and a two-year lease on a 2017 GMC pick-up from Darlings Auto Mall, according to the race committee.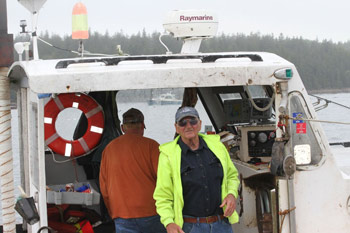 Also in this issue, Pemaquid Races.