Pemaquid Races
Good Weather, Races and Celebration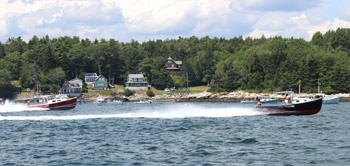 Pemaquid's lobster boat races are run at the foot of one of the oldest surviving European settlements and forts in the United States. On August 13, the race was held under clear skies and in great weather. Pemaquid is a non-points race. Co-organizer Brent Fogg said he plans to expand the number of races in 2018 while remaining a non-points race.
One of the noted races was between Steve Johnson's 26' Lynn Marie and Bruce Engbert's Thunderbolt. Lynn Marie, built in the 1980s, was running a 632 Chevy gas engine. Lynn Marie won that race by a wide margin. During the first half of the course, the two were running about even with Thunderbolt in the lead. Johnson said about halfway down the course his engine began running right and his boat took off. Lynn Marie increased speed rapidly to a lead of several boat lengths at the finish line. Johnson said his GPS recorded speed was 57 MPH.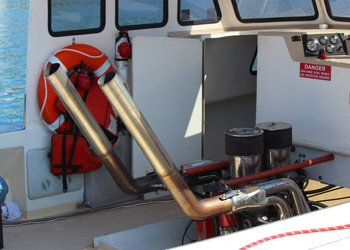 Thunderbolt is a custom South Shore 30' built in 2007. Bruce Engert Sr. and Jr. had the boat laid up in carbon fiber and Kevlar and cored with Divinycell for reduced weight and added strength. This process, said Engert Sr., produced a stiffer hull with less longitudinal twist. That stiffness results in increased hull performance.
The Engerts also borrowed design and engineering from cigarette boat construction. They added a step in the aft end of the underside of the hull. Beginning at that step, the hull is 4 inches shallower from that point to the transom. The father-and-son team also experiment with engines and modifications. They have worked with engine builders Bob Bailey in Cundy's Harbor and Bob Stevens in Augusta. Custom grinding cam shafts for torque, tweaking the cup on the trailing edge of a wheel, and ramping up power where ever possible in the 621-cubic-inch gas engine are a few of the continuous experiments the Engerts have in play.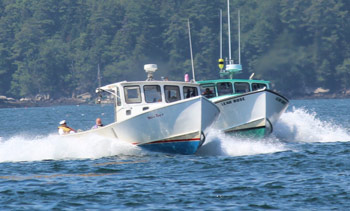 Engert said Thunderbolt is built like a lobster boat. At anytime, with a few minor changes, the boat could haul traps. Both he and Bruce Jr. hold commercial lobster licenses.
Other high-speed times were turned in by Glenn Crawford of C&C Machine, with Wild Wild West, which in one race ran 55.4 MPH on race committee radar. Crawford said the speed was recorded at 61 MPH on GPS for that race.
Also in this issue, Winter Harbor Races.