American Lobster In The Asian Century
by Mike Crowe and Fishermen's Voice staff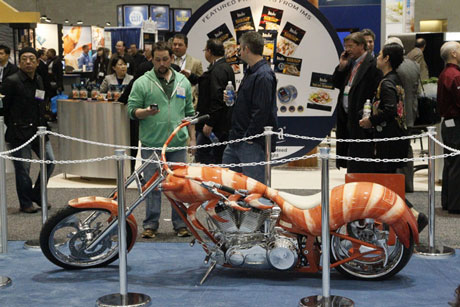 The value and importance of the seafood industry internationally was very evident at the convention center here. The International Boston Seafood Show, America's largest seafood show, is a business to business exposition that draws exhibitors and visitors from around the world.
In the 30 years since the first IBSS show, long time exhibitors noted the increased presence of Asian companies this year. China led with the most representatives followed by Taiwan, India Korea and Japan. The U.S. companies from New Bedford, Gloucester, Alaska and California, etc were there of course. This year Maine had 18 companies at the show. Of these 10 were in the seafood handling business, whereas the other 8 were consultants or promoters.
The Boston Convention Center on the downtown waterfront is a wide-open space equal to several football fields. Many of the companies at the show were in the processed seafood business, wild caught and farmed. Processed aquaculture products were dominant.