What's Up With the Lobster Market
by Sandra Dinsmore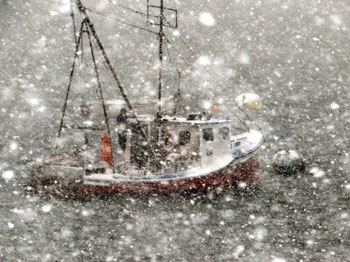 The lobster market following any major holiday is a disappointment. But in January 2018, absolutely ghastly sub-zero temperatures exacerbated the expected drop in January lobster sales. These sub-zero temperatures led to fewer than usual lobsters being caught and thus fewer lobsters available to sell.
Fishermen from Nova Scotia to New Jersey spoke of not being able to get out for periods of days, a week—several reported being stuck for as long as two weeks—and in one case for 17 days (since Christmas). And it was all pretty much because of weather: ice, snow, wind.
When the temps get down there, lobsters stop crawling, and the temps got down there in January. So fishermen stopped fishing, and on super cold days when the few lobsters still crawling found themselves trapped they tended to drop their claws, which made them impossible to sell whole.
Long sets due to wind and freezing temperatures led those trapped carnivorous creatures to also chew each other up. And although not every trapped lobster had a dropped claw or had been chewed up, many were damaged, making it impossible for buyers to set them on a plate and have them look appetizing. In addition, fishermen and dealers reported that the animals weren't very large. There were very few select size lobsters. And despite there still being some softs, product was generally good quality although throughout the entire American lobster range fishermen also reported trapping more culls. It was downright depressing.
---
"We believe the
70K base with
a 50/50 split is
fair and reasonable."
– Letter to NEFMC from
several dozen fishermen
---
Added to all that was the usual dull post-holiday demand. People had had their lobster over the holidays. Not many crave lobster every week or two, especially in winter, though most consider winter lobster superior to summer quality. A Maine buyer then added to the problem by announcing, "If it's below a certain temperature, we're not buying; there's too high a chance of the lobster getting numb and weak and dropping claws." As prices rose, a dealer said in an understatement that they were "reaching winter pricing levels where people don't get excited." Another dealer added, "Without processors it's hard; dealers have to cook their own."
A Rhode Island fish market owner charged supermarkets in his area with ruining the retail lobster market by selling product "a shade above, at, or below what [he] paid for it." A Wakefield fisherman reported that the lowest price local fish markets charge for lobster is $9.99/lb. and that they charge up to $11.99/lb. He said the price fishermen charge for lobster at the dock is $8.99/lb. and that an area supermarket chain runs a sale for every July 4th holiday and sells lobsters for $3.99/lb. The fish market owner said of supermarkets taking a loss leader with lobster, "They run pricing at cost or below in order to get people in the store." He said of supermarkets, "They have a million things to sell; fish markets don't." He called competition brutal, said "The live lobster market is falling apart," and called the lobster business "a changing industry."
The state of the lobster business in January was enough to make many dealers close up shop and just about any active lobster fisherman decide to bring his gear home and head for someplace warm.