John Ryan Photos at NBFHC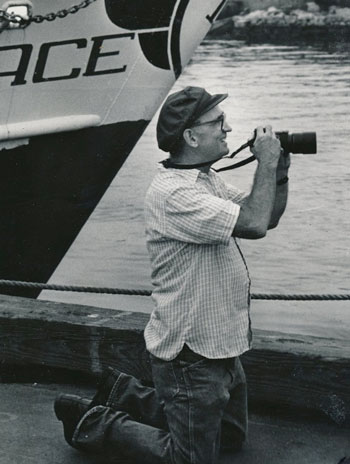 New Bedford, MA—The New Bedford Fishing Heritage Center has announced the opening of The Photography of John "Choo Choo" Ryan. An opening reception will take place on The exhibit opens November 9, 2017 and will run until January 28, 2018. This exhibit represents a small sampling of Mr. Ryan's collection of 10,000 images.
John "Choo Choo" Ryan spent his 45-year career working for Amtrak as a locomotive engineer. Beginning in the 1950s, he also worked as a diver, repairing commercial fishing vessels on his days off. He often had to photograph underwater repairs for insurance companies which sparked his interest in photography.
After retiring in 1988, Choo Choo spent his days documenting the New Bedford waterfront. His love of the waterfront and for those who make their living from the sea is evident in his photographs.  He became a well known freelance photographer and his work appeared many times in The Standard Times and National Fisherman magazine. 
For 20 years, Mr. Ryan captured images of nearly every boat fishing out of New Bedford.  He passed away on March 7, 2009 after a long illness.
The New Bedford Fishing Heritage Center is the caretaker of his collection and grateful to his daughter,  Marybeth Carlsen, for donating it to the Center.
The Center is open Thursday-Sunday 10:00 a.m. to 4:00 p.m. Admission is free. Located at 38 Bethel Street in the heart of the National Park, the Center is wheelchair accessible with free off-street parking. 
For more information, please email programs@fishingheritagecenter.org or call (508) 993-8894.