F R O M   T H E   C R O W E ' S   N E S T
Occupations, Not Just Jobs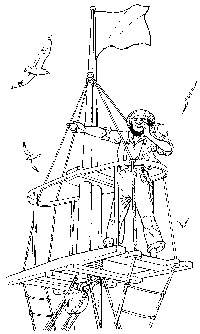 Having an independent small business and supporting a family doing something you want to do among similar peers—those are a couple of reasons so many generations have found social stability in Maine fishing communities.
Over the last 50 years, changes related to fisheries habitat, global ocean habitat and the international consolidation and privatization of resources has been gradually building momentum. That change will either exclude or include coastal fishing communities. It is not likely to be both without informed, active and demanding citizen participation. The agencies which fund economic and social change have particular goals and influence. Government implementing agencies can, by definition and reality, be removed from the social change from economic policies. Government employees have jobs. Fishermen, other professionals and business people have occupations.
The ancient, assumed natural right to earn a living from the sea is at risk today. Shrinking waterfront access is already a problem. U.S. Representative Chellie Pingree's national bill, HR1176, is a good first step in preserving working waterfront access. The loss of access to fishery resources in the form of tradable, owned and consolidated fish quota is a greater threat. Aquaculture—finfish, shellfish and seaweeds—has been developed, promoted and funded by the federal government for decades. The operations will either begin as large investments—finfish and American eel grow-out—or rapidly consolidate into large corporate entities, unless there are built-in legal mechanisms to preserve owner-operator scale.
But there are many structural and legal details regarding the development of this industry that are being overlooked. Whether in the water or on the bottom, aquaculture lease lengths, terms, transferability, limits to consolidation, foreign ownership, etc., are all unresolved waterfront and resource access issues. The flow of government largess that lulls agencies to accept the rush to implementation can be at the expense of citizens in the private sector who may be excluded.
Publicized elver harvest earnings obscure an emerging domestic eel grow-out industry. A Maryland company has asked for elver quota, effectively Maine's since no other state has that quota. That quota will be used to assure industrial-scale investors that a supply of elvers is locked in. What will hired harvesters be paid to harvest company quota? Not $2,500 per pound. Minimum wage?
Coastal Maine needs occupations, far more than just jobs.