Council to Consider Implications of Rafael Sentence
by Laurie Schreiber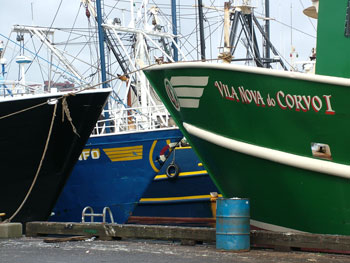 GLOUCESTER, Mass.—The New England Fishery Management Council (NEFMC) briefly discussed potential implications of the recent conviction and sentencing of Carlos Rafael, of Dartmouth, Mass., on the groundfish fishery.
According to a Sept. 25 press release from the Department of Justice's U.S. Attorney's Office for the District of Massachusetts, Rafael, owner of one of the nation's largest commercial fishing businesses, was sentenced by U.S. District Court Judge William G. Young to 46 months in prison and three years of supervised release, during which time he is banned from working in the fishing industry. The sentence was imposed for falsifying records to the federal government to evade federal fishing quotas and smuggling a portion of his business' proceeds to Portugal to avoid U.S. taxation. The court also ordered Rafael to pay a fine of $200,000 and restitution to the U.S. Treasury of $108,929. "Rafael may also be subject to forfeiture of a portion of his fishing fleet, but the Court held that issue for further consideration," according to the release.
Rafael was arrested and charged in February 2016. In March 2017, he pleaded guilty to one count of conspiring to commit offenses against the United States, 23 counts of false labeling and fish identification, two counts of falsifying federal records, one count of bulk cash smuggling, and one count of tax evasion. As owner of Carlos Seafood Inc., in New Bedford, Mass., he owns 32 fishing vessels and 44 permits.
At NEFMC's September meeting, Timothy Donovan, assistant director of the National Oceanic and Atmospheric Administration's Office of Law Enforcement, reported to NEFMC on the sentencing. NEFMC members raised several questions that they said would like be addressed at NEFMC's December meeting: That included what would happen to the captains of the boats in Rafael's fleet, what would happen to the permits, and whether the outcome of the case would have any impacts on the management of the fishery.
Donovan said he expected he would have additional information in time for the December meeting.
According to the Department of Justice's press release, "The charges arose out of an undercover investigation in which federal agents posed as organized crime figures interested in buying Carlos Seafood. From 2012 to January 2016, Rafael lied to the National Oceanic and Atmospheric Administration routinely about the quantity and species of fish his boats caught in order to evade federal quotas designed to guarantee the sustainability of certain fish species.
"During that period, Rafael misreported to NOAA approximately 782,812 pounds of fish, telling NOAA that the fish was haddock, or some other abundant species subject to high quotas, when in fact the fish was cod, sole, or other species subject to strict quotas. After submitting false records to federal regulators, Rafael sold much of the fish to a wholesale business in New York City in exchange for duffle bags of cash. During meetings with the undercover agents, Rafael said that in his most recent dealings with the New York buyer he received $668,000 in cash. Rafael smuggled at least some of that cash out of the United States to his native Portugal, hiding it there to evade federal taxation on that revenue."