2017 GMC Double Cab 4x4 at
Winter Harbor Lobster Boat Race, August 12, 2017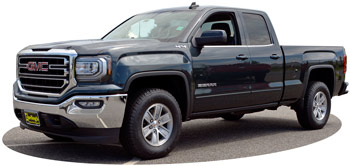 Darlings Auto Mall, Darlings Chevrolet and DC Air are giving one lucky race participant a no-charge two-year lease* of a new 2017 GMC Double Cab 4x4.
Winter Harbor racing prizes include a bundle of one thousand $5 dollar bills. Prizes donated include those from RE Thomas Marine Hardware with an Intermediate Shaft Bearing, Self-Aligning Stuff Box 2½" – Retail value $2193.03 and a Rudder Port, Gland Style 2½" – Retail value $1175.72 (If the winners need a larger or more expensive part, they can use the value of the prize towards that purchase.)
Nautilus Marine Hardware custom racing trophies cut on their water jet, bait from Peter Mullins Bait Company and $3,000 worth of gift certificates from the Bunkers Wharf Restaurant. These and other prizes are valued at more than $20,000. Races are scheduled to start at 10am at the town dock at the end of Harbor Road. The Winter Harbor lobster festival will be held on the same day.
* Total of lease payments is a maximum value of $10,000. Winner is responsible for all taxes and fees and must qualify for one-pay lease agreement with lease provider.