Council Votes on Gulf of Maine Coral Restriction Preferred Alternative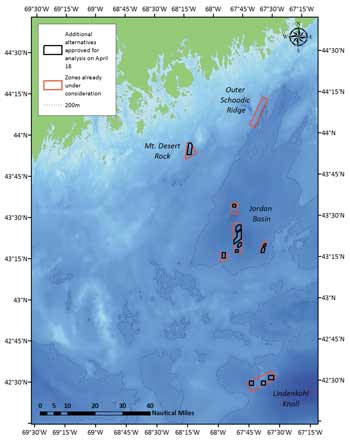 The New England Fisher Management Council's preferred alternative for the inshore Gulf of Maine would prohibit mobile bottom-tending gear (trawls and dredges) within both the Schoodic Ridge and Mt. Desert Rock areas. While an option to prohibit all bottom-tending gear, including lobster traps/pots, is still in the amendment, it is NOT the Council's preferred alternative. The Council recognized the economic impact associated with preventing the lobster fishery from working within the inshore areas and acknowledged that shifts in effort to other locations could be problematic.
The council hopes the alternatives will go out for public comment in late May. A schedule of those hearings will be released in early May. One question that will be discussed is the boundary options in these two areas which are shown in red and black on the map.
See public hearings schedule in early May at: fishermensvoice.com