Channeling Vikings & McManus
by Mike Crowe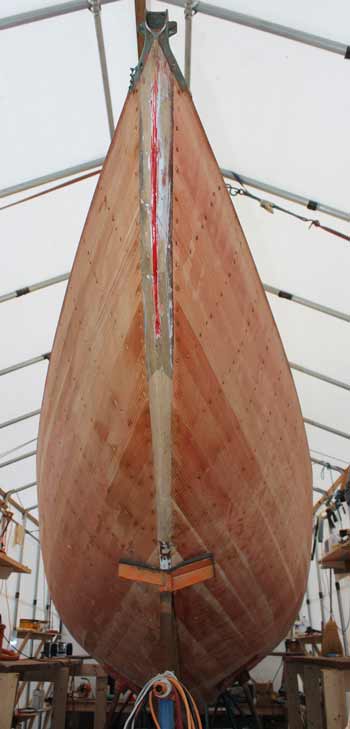 When it comes to boat building tradition the Vikings and their Scandinavian descendants have a certain lock on it. The Viking ship has been traced back to the late stone age (ca. 2000 BCE). Seaworthy, light, supple, slender, fast and strong Viking ships were essential and perhaps inevitable in a land of forested mountains and seacoast. Before the metal saw Viking builders split thin hull planks out of old growth trees. Ireland, an island about 700 miles to the SW and likely Viking relatives, has also built boats of note for many centuries.
One of the best known boats designed and built by a Viking descendant has been restored in Bar Harbor, Maine this spring. Designed in Norway in 1936 by Bjarne Aas (1886-1969) the International One design is light, slender, strong and fast. They are still being built and sailed around the world. Aas originally designed it for a New Yorker interested in developing a racing sail boat class.
Irish-American New England fishing schooner designer Thomas F. McManus's popular Indian Header and knockabout fishing schooners of the early 1900s, which eliminated the bowsprit, have features similar to the International One design, though on a larger more heavily built scale. McManus's schooners were still fishing Georges Banks when a more lightly built run of 14 International Ones arrived in Northeast Harbor in 1938. The deep wine glass shaped cross section, rockered lead keel, pronounced tumble home at the stern and raked transom are features of the Knockabout schooner and the International One.
Bjarne Aas exaggerated some of these design elements to maximize speed and handling. This extreme necessarily took a back seat to the practical realities of a days work on the banks in a fishing schooner. But racing back to port with a load of groundfish was an important and anticipated part of a trip for fishermen then—whether for market price, beating a storm or just the thrill of it.
McManus' schooners were designed and built to fish on Georges Banks from Labor Day to Easter. An environment that could be a tough place to sail. An environment that sank 17 fishing schooners in one winter storm in the late 1800s. Racing back to port under sail with a few tons of fish, for the most part weather be damed, requires a particular vessel.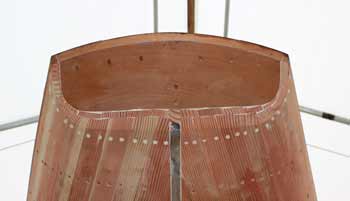 An International One, built as lightly as it is, would likely have difficulty making it back from one trip on the banks with a proportional load of fish in January. But they have no difficulty sailing fast in inshore waters in the hands of skilled sailors, which is what they very specifically were designed to do. In Maine these boats race in July and August and spend the less than optimal months in the barn. Getting maximum strength and speed out of the minimum materials and weight is what Bjarne Aas did. He did it well enough that the class has survived and one of the original 1936 built Ones, Magic Bus, which raced annually until 2009, is now being restored in Bar Harbor.
Racing boat classification rules, including lobster boat racing classes, group similar boat lengths and engines or sails to help level the playing field. Rules for the International One are more complicated and restrictive, all boats being nearly identical.
Magic Bus was shipped with several others to Larchmont, New York in 1936. In the 1980s it came to Northeast Harbor via Marblehead, MA. Always stored indoors for the 10 months it didn't race, it was stored out in the weather after being hauled in 2009 until 2014, which took a toll on the 78-year-old.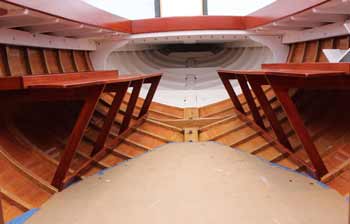 The current owner arranged to have the boat restored. But slow progress led the owner to bring in Gouldsboro wooden boat builder Kevin Snyder, Cove's End Woodworking. Snyder's 37 years in the boat building business began at the boat building school at Eastport, Maine. He has done custom work on all kinds of boats. Snyder grew up sailing whatever he could get a hold of around the Gouldsboro, Maine peninsula. He is also a hired captain who races these 33' high performance classic boats for their Northeast Harbor owners.
When the money men of New York City challenged the British to a sailing race in 1851, the first of what became the America's Cup race, they wanted the best sailors and went to Deer Isle, Maine to hire them. Generations of Mainers had sailed in fishing and coastal merchant schooners. Racing to land fish, beat a storm or just to get home, it was their generationally compounded sailing skills that won that first cup race in 1851.
The 78-year-old Magic Bus needed a lot of work. Snyder replaced all but three frames, and all but five floors. The light 1inch by 1inch frames were stepped into the new keel and steam bent into place. The hull was double planked with vertical grain Douglas fir—1/2" planks over 1/4" planks, glued, screwed, faired and sanded. The International One restrictions do not prohibit the use of modern building materials, adhesives or rigging hardware. The planks were caulked with an epoxy paste and the half inch plywood decks covered with canvas and epoxied. Furniture quality joinery, mirror finished spar varnish bright work and the use of modern adhesives and sealants equals or betters the original. The hull is being painted and a June re-launch is planned.