Fishermen Weigh in on Federal Scallop Controversy
by Sarah Craighead Dedmon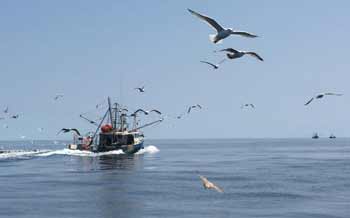 A scallop seminar at last month's Fishermen's Forum provided a venue for fishermen and federal scallop fishery representatives to discuss a hot-button topic, frequently referred to as the Northern Gulf of Maine "loophole".
The "loophole" refers to federal regulations that allow large boats fishing with a Limited Access (LA) permit to harvest an unlimited amount of scallops from the Northern Gulf of Maine management area. LA boats are regulated by days-at-sea, which dictate how many hours they can spend fishing, and not by catch limits.
By contrast, smaller boats holding a NGOM permit have a daily catch limit of 200 pounds. Another category of permit, IFQ or Individual Fishing Quota, also harvests in the NGOM. When the entire NGOM/IFQ fleet reaches their combined catch limit of 70,000 pounds, the area is closed to all boats for the season.
"This is just an odd inconsistency," said Alex Todd, 10th generation fisherman from Chebeague Island, who said he believes all boats fishing in the NGOM should be regulated by catch limits. "We're supposedly rebuilding stocks, but boats with four times as much drag keep whatever they scoop up. It doesn't add up to a consistent line of conservation," said Todd.
The NGOM federal scallop management area begins at 42°20', extending north from Boston Harbor to Eastport, ME, and is regulated by the New England Fisheries Management Council. Maine fishermen hold 39 of the 100 NGOM permits and three of the 354 Limited Access permits issued in 2016.
Kristan Porter of Cutler fishes from his boat the "Whitney & Ashley" and sits on the New England Council's Scallop Advisory Panel. Porter, who holds an NGOM permit, said he doesn't think that the term 'loophole' correctly describes the NGOM problem. "The LA fleet maintains access to the NGOM area, which encompasses our area as well, and they fish under the system used in their area, which is Days at Sea," said Porter, "It's not really a loophole, it's kind of an overlap."
Mike Murphy, a fisherman from Machiasport, said that fishermen holding the NGOM permit feel a sense of urgency to land 70,000 pounds as quickly as possible in order to protect the scallop resource. "If we can get down there and close it down in a month, the big boats have to leave. Once it's closed for us, it's closed for everybody," said Murphy, "I'm thinking the LA fleet's going to do so much damage [to the scallop beds] this year that we won't see them next year."
"This is how the LA fleet fishes when they're on days-at-sea," said Travis Ford, NOAA fishery policy analyst, "They find a bed of scallops, and then they fish it until it's no longer worth using days-at-sea to fish those scallops, or they don't have any more days-at-sea left." Ford said that the council currently lacks the regulatory tools to implement any changes for the 2017 season, "The unfortunate part here is that one of those beds of scallops showed up in the NGOM, and there was no way for the council to really adequately prevent the LA fleet from harvesting them," said Ford.
Ford said that when the NGOM management plan was created in 2008, most of the larger Limited Access boats fished south of the 42°20', so regulations were geared toward the federal permits typically used by smaller boats. "For years and years the NGOM total allowable catch was set at 70,000 pounds, fishermen never came close to hitting it. No one really thought twice about it, " said Ford, "Then boom, they're harvesting 300,000 pounds out of the area."
Ford is referring to 2016, when the LA fleet first began fishing in the Gulf of Maine. In 2015, there were roughly 72,000 total pounds of scallops landed in the NGOM. In 2016, that number skyrocketed to 381,600 pounds. LA landings data are always estimates, because regulations do not require the LA fleet to report where they caught their scallops.
Togue Brawn, owner of Downeast Dayboats, said that fishermen are reporting the LA fleet has already removed more than one million pounds of scallops from the NGOM as of March 15. "The Sustainable Fisheries Act requires NOAA Fisheries to prevent overfishing in all areas they manage. They have measures in place to prevent the General Category and NGOM boats from overfishing the NGOM," said Brawn,"But there is nothing in place to prevent the LA boats from overfishing the area."
Brawn said she has raised this issue with the council every year since the NGOM area was created in 2008. "We have been waiting for twenty years for this area to come back. This bed could have supported us for decades," said Brawn, referring to the scallop bed on Stellwagen Bank where most dragging activity is centered this season, "Through their inaction, the council and NOAA fisheries are allowing it to be wiped out by the limited access fleet."
According to Jonathon Peros, the New England Council's lead fishery analyst for Atlantic Sea Scallops and seminar panelist, the council made a framework adjustment in 2016 aimed at limiting the high landings in the NGOM. The measure prevents limited access boats from engaging in a practice known as "shell stocking," in which the boats leave federal waters in order to stop the clock on their days-at-sea, shuck their scallops off the clock, then return to federal waters.
"The measure prohibits vessels from possessing more than 50 US bushels of shell stock inshore of the days-at-sea demarcation line north of 42 degrees 20 minutes North latitude, which prevents limited access vessels from circumventing the days-at-sea program," said Peros. "This provision already exists in the scallop fishery south of 42 degrees 20 minutes North latitude, and Framework 28 expands the existing rule throughout the range of the fishery."
Ford said that the council intends to address the controversial Northern Gulf of Maine situation in 2017. "We wound up with a management system that the council no longer thinks is adequate", he said, "They have a priority to address changes in the NGOM program this year." The council's next meeting will take place Apr. 18-20 in Mystic, CT.
Porter will be traveling to Rhode Island to participate in the meeting of the NEFMC Scallop Advisory Panel and Scallop Committee, March 29-30. He said he is focused on working toward a resolution to the NGOM issue. "It's a negotiation process to try to figure out a suitable solution," said Porter, "It's two separate fisheries. You've gotta try to hammer it out."
Related: King, Pingree Urge NOAA to Protect Gulf of Maine Scallop Industry