Clam Fishery Has Potential
by Laurie Schreiber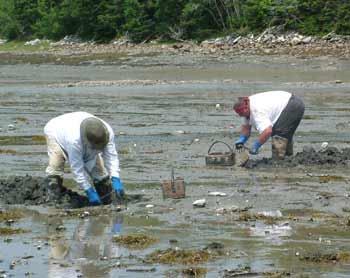 ROCKPORT—The clam fishery has a lot of potential economic for the state. But some work needs to be done to leverage that potential. That was the word from Abden Simmons, a long-time clam harvester and now a state legislator from Waldoboro.
"I'm very passionate about digging clams for a living and I think the rest of the state should be as well," Simmons said during a session on shellfish at the Maine Fishermen's Forum in early March. The value of the clam fishery has declined considerably in the last 30 years, from about $30 million per year with about 6,500 harvesters in 1976, to just below $10 million today, he said.
"The harvesters of Maine need to step up to the plate to do what needs to be done to improve our industry and build it back up to what it should be, to restore jobs and get this industry back where it needs to be. That's a high priority of mine," he said.
Simmons said a handful of towns have bent over backward to help the industry. But other towns offer minimal support, he said.
Water temperature is among the industry's most pressing issues, Simmons said.
"In managing our areas, we have to look at that," he said. "In the last couple of years, we've noticed the water temperature increasing. It happened in the mid-'50s and early '60s. I think we're in another cycle. We've got to change the way we do our management to adapt to this change. I do not see this happening fast enough to keep up with the trends."
So what's to be done? "Anything and everything," Simmons said.
That includes conservation measures, taking care of rivers, measures to mitigate pollution, and making sure areas are accessible to harvesters, he said.
"We need to do everything we can to keep those areas open," he said. "The effort is not there to do this."Last October, Simmons said, he and other interested parties in Waldoboro started a project to grow razor clams. They planted 40,000 razor clams, covered with nets.
"This spring we'll see how we made out," he said. "I'd like to see a diversified fishery" putting razor clams and other types of clams in the Medomak River, as highly valued products.
"The more species you get in the mud, the more people you put to work," he said. "More products means more jobs."
Simmons said he'd like to hear from clam harvesters to get their input around the fishery (Abden.Simmons@legislature.maine.gov).