F R O M   T H E   C R O W E ' S   N E S T
Maintaining Commons Access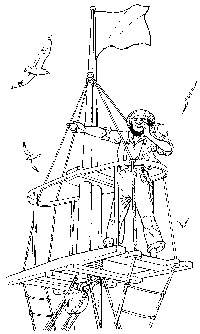 Yes, Maine has resources, including marine resources. Markets need them and there are corporations that want to own them. It is the current world's more scarce resource reality.
They are common, publicly held resources. By keeping them common all the people retain the right to speak and engage in the management process. When common rights and access are transferred to private or corporate control, as they are in many countries today, those public rights are lost.
Maine citizens can make public resources what they want them to be for themselves and their descendants by participating in the public process. Demanding that politicians place them first in resource management decisions. Not the political farce of promising temporary low-paying "jobs" in exchange for the real wealth that natural resources can provide generations of coastal communities.
There is international pressure on Maine's marine resources in a number of ways. Among them is environmental degradation, global warming and real estate development. But the single greatest threat is from those who want to gain ownership of the access rights to these resources and the politicians who will take their money to make that happen.
Private interests at the federal level have driven the effort to commodify groundfish through transferable quota and catch shares. At the state level there is pressure to privatize the Maine rockweed harvest, effectively for Acadian Seaplants of Canada, which bought the seaweed rights to the West Coast of Ireland in 2014. The Environmental Defense Fund has promoted a tradable quota system in the elver harvest. A quota that proposed industrial grow-out facilities want, need and would eventually own. This ownership strategy could be replicated with shellfish, seaweed and more easily aquaculture.
Maine lobstermen have become more engaged in and intercommunicative about their fishery in recent decades through zone councils, the MLA and the Fishermen's Forum. Information is power. Organization is an expression of that power. Ground fishermen, clammers, scallop fishermen, seaweed, elver, alewife and other harvesters will need to be more informed and vocally engaged if they are to preserve their rights of access to Maine's marine resources.
Aquacultures, as promoted by the federal government, are particularly susceptible to consolidation. Dropping the pre-self-congratulatory Feed the World drawing card and replacing it with "sustaining coastal communities through mandated owner operated small business" would be a first step in maintaining the Maine citizen commons access rights.