Warming Rhode Island Waters and Their Effect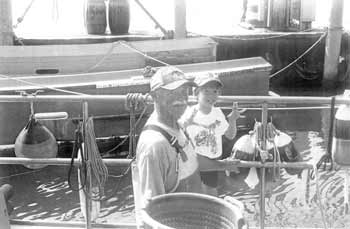 "It's taken quite a chunk out of the catch," said Rhode Island lobster fisherman Peter Brodeur, of the results he's seen from rising water temperatures. Brodeur, an inshore fisherman, fishes out of Point Judith to the edge of offshore waters, 18 miles from shore.
On January 5th, he said the water temperature was 50 degrees F. on the surface. "Traditionally," he said, "it would be in the low 40s in early January. It's my feeling that it seems to have risen a degree or two from the average water temperature. The lobster seem to migrate to cooler waters."
Between Thanksgiving and New Year's, Rhode Island lobster fishermen used to average 1 lb./pot, Brodeur said; "Now there aren't any [lobster] in the water." By early January 2017 he was averaging 1/4 lb./pot, only he and one other lobsterman were still fishing inshore, and both were bringing in their traps. (He gave as an example of the dearth of lobster that he had trapped only 8 keepers out of 50 pots and that there was plenty of bait left in the traps.)
Brodeur, who has been lobstering for 35 years, said the first inclination he had that things were changing occurred five years ago when an otter trawl boat at the mouth of Narragansett Bay's west passage landed what Brodeur described as a handful—not enough to sell—of southern shrimp. He called finding these shrimp from the Carolinas in a Rhode Island catch an anomaly.
Although Brodeur insisted that what he has been noticing is strictly anecdotal, he regularly catches Cancer or rock crabs, which are related to Jonah crabs. "There's always incidental catch from 20 fathom plus," he said, "but in the last three or four years, I've noticed the claws on the crabs are a tad bigger." He went on to say that he regularly goes to Florida and the Carolinas in winter and has noted the difference in size between the claws of southern crabs as opposed to those of Rhode Island rock crabs. He concluded, "That gap seems to be closing."
In the last 8 or 9 years Brodeur has also seen a dramatic increase in the number of sea bass in lobster traps. He noted that sea bass are very fast-growing fish with sharp points on the ends of their fins with a voracious appetite for soft and small lobster and crab. "The increase has been to such an extent," he said, "we [fishermen] call sea bass the new cunner," adding that in his opinion sea bass probably cause the largest predation in Area 2 of the lobster fishery.
Although Brodeur said the scientific and regulatory communities have started to address this sea bass population explosion, he noted that the Mid-Atlantic Council regulates the sea bass fishery. Previously the mid-Atlantic area had had the biomass. "Now," he said, "they're here in large numbers, the small ones replacing the cunners." (Brodeur added that large sea bass can eat pound-and-a-half lobster.)
As proof of the sea bass population explosion in Rhode Island waters, Brodeur said, "Carolina offshore boats are catching sea bass up here then steaming back to the Carolinas." As proof of the rise in water temperature he said, "The sea bass will hang around until it gets to 55 degrees. When it gets to 55, the population explodes. When it gets below 55, they go back south."
Brodeur said, "Gulf of Maine, Massachusetts, and southern New England lobster fishermen would like to obtain a new sea bass quota to help contain the sea bass predation problem."
Trying to gauge a time when lobster catches started to drop off, Brodeur mentioned an oil spill off Rhode Island in early January 1996 as being the beginning. The change in the lobster resource seemed to coincide with the time he bought his 30-foot H & H lobster boat in Milbridge that year: January. He said his high expectations based on historical catch were dashed by the oil spill. "From then to now," Brodeur said, "there's been a general attrition of the catch. It was almost like dropping a pebble in the water. The ripples go back to the pebbles."
Independent fishermen's advocate Sarah Schumann, who works out of Rhode Island, agrees. She received a Saltonstall-Kennedy grant in 2015 and has been studying environmental changes causing waters to become warmer. She has found the changes offshore to be consistent and said fishermen have noted a general movement of mid-Atlantic fish eastward and northward. She noted, "Those fish include fluke, sea bass, sea robins, that whole group of finfish. All the species that were never seen on George's Bank are now being seen."
Schumann also noted that a fisherman she interviewed who drags in the canyons for whiting told her that the whiting has been moving progressively east/north over the last few decades and that the fisherman has been jumping from one canyon to the next as he drags for it.
In addition, the fishing season is starting earlier and ending later, which one would think of as positive since it means a longer season, but which actually produces marketing problems since the demand for lobster drops dramatically once the tourist season ends.
Schumann said, "There has been a general progression [of these environmental changes] since at least the 1990s," adding, "the environment is always changing, and anyone who's been a fisherman knows that. But with global climate change now acting on top of natural regional temperature cycles, that unpredictability is being exacerbated." In some cases, she said these changes bring opportunities and in some they bring challenges. "The focus of fisheries promotion and management," Schumann continued, "should be on endowing fishermen with the flexibility and diversity of opportunity that they need in order to be adaptive in the face of uncertainty and change."