Maine Scallopers Adjusting to New Plan, Better Catches and Prices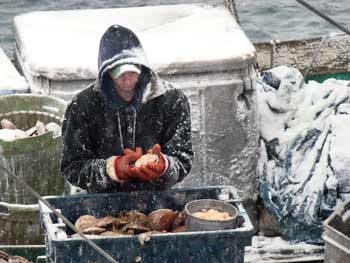 January 13, 2016 — After six weeks of harvest, fishermen across the state continue to report good catches, with most on their way back to the mooring by early afternoon with their daily limit. Foul weather resulted in the majority of the fleet only being able to get out on Monday and Tuesday. Yet a few were able to work in the lee of islands and were rewarded with good prices at the dock, which for the most part, remained strong this week. However, with fishermen taking longer in some areas of the state, the Department has been undertaking in-season surveys as well as speaking directly to industry members to evaluate whether fishing grounds have met their targets.
The Limited Access Areas, which opened on January 2 for one day per week of harvest (in zones 1 and 2), have attracted a lot of effort over the past couple of weeks. For the opening of the Moosabec Reach Limited Access Area (in zone 2), known locally as 'The Reach' in Jonesport, approximately 57 boats were fishing the area that day. For a video of the opening in action, check out the "Opening Scallop Dragging in Moosabec Reach" video on YouTube by harvester Billy Milliken . See fishermensvoice.com for web link
This week 44 boats were back fishing the area while some vessels have left to finish out their season in Cobscook Bay. The Reach will have at least one more day of fishing, then the Department will evaluate the area to determine if a closure may be justified to ensure another healthy harvest in the future.
Finally, there will be no emergency actions for next week and the fishery will operate under the current rules. Please check the DMR website for emergency rulemaking notices, or contact Trisha Cheney to get on an email notification list to be notified in advance of any in-season management actions . See web link at fishermensvoice.com
*Clarification: In last week's report, the Department noted that the calendars reflecting the open days for fishing in Zone 1 increased from 3 days per week to 4, as well as going from 4 days to 5 in Zone 2 for both January and February. This was reported in the press as a decision made mid-season. However the additional days were added during regular rulemaking that established the season calendar in the late summer/early fall. The change this year was based on industry feedback, as fishermen preferred to have the longer work week to help them be able to work around the foul weather that is typical for this time of year. Therefore, days were scheduled to increase in January and February and will decrease in March. This also helps the diver and dragger calendars to better complement one another, as overlapping days where both groups are fishing at the same time are minimized. See all current scallop season calendars at: fishermensvoice.com E-Edition Extras.