Maine Outdoor Heritage Fund Supporting Shellfish Monitoring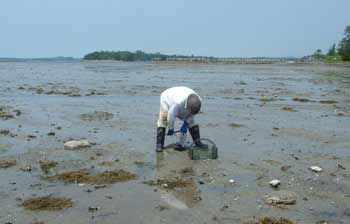 A $32,000 grant from the Maine Outdoor Heritage Fund has strengthened Maine Department of Marine Resources' ability to protect public health and preserve opportunity for Maine's shellfish industry.
The funds will allow the department to purchase equipment to test for domoic acid, a naturally-occurring biotoxin that can cause serious health risks including amnesic shellfish poisoning (ASP). The equipment will be purchased and DMR staff trained during the upcoming winter months.
While phytoplankton species that cause domoic acid have been detected in Maine waters for years, 2016 was the first year the biotoxin was found in concentrations that could cause adverse health impacts.
Levels of domoic acid detected by DMR's biotoxin monitoring program in September triggered closures of shellfish harvesting areas between Bar Harbor and the Canadian Border. The event lasted until mid-November when the final closed area was re-opened.
The process of testing for domoic acid involves routine phytoplankton sampling at established sites along the Maine coast throughout the year. The samples are analyzed under a microscope by DMR staff and trained volunteers. If cell counts of the phytoplankton, known as Pseudo-nitzschia, in the water samples reach established levels, a test known as the Scotia Rapid test is conducted to determine if domoic acid is present.
If test results are positive, shellfish sampling in the vicinity begins and shellfish samples are sent to Bigelow Laboratory for Ocean Sciences for further confirmation using a method known as high-pressure liquid chromatography (HPLC).
If the concentration of biotoxin in the samples reaches a level established by FDA as a baseline for regulatory action, 20 parts per million in the case of domoic acid, the area associated with the toxic shellfish is immediately closed.
"Our partnership with Bigelow Laboratory for Ocean Sciences continues to be invaluable," said Maine DMR Public Health Bureau Director Kohl Kanwit. "We began working with Bigelow Bigelow Laboratory in 2014 to implement HPLC testing for red tide. As a result Maine was the first state in the nation to transition from using mice to test for biotoxins to the more precise HPLC method, which uses chemical analysis instead of live animals," said Kanwit.
"By transitioning the biotoxin monitoring program to HPLC, DMR is able to respond more effectively to emerging biotoxin threats such as ASP."
Before HPLC testing was available, the department had no way to test for domoic acid. Instead, notification of possible ASP contamination came to the department from health officials dealing with a potential ASP illness. FDA then tested samples, which could take up to ten days, during which large sections of the Maine coast were closed until results were returned.
In 2012, approximately 50,000 acres of shellfish harvest area on the Maine coast were closed as a precaution for nine days while FDA results were pending. Test results ultimately indicated there were no levels of concern and the areas were reopened.
"HPLC testing by Bigelow Lab was a major improvement for us and for industry," said Bryant Lewis, the DMR Biologist who wrote the grant and will oversee the project. "The new equipment, which will be housed at the DMR lab in Boothbay Harbor, will further strengthen our ability to deal with this emerging biotoxin."
Shellfish samples collected as part of the department's routine biotoxin monitoring program will still go to Bigelow Laboratory for analysis of paralytic shellfish poisoning and diarrhetic shellfish poisoning.
However, samples from areas that are shown by DMR testing to have high Pseudo-nitzschia cell counts and to be positive for domoic acid can be tested immediately with the new DMR equipment. This eliminates the potential need for precautionary closures while waiting for test results from the lab.
"Our partnership with the Bigelow Laboratory enabled us to effectively monitor and manage the ASP event this summer and we will continue to partner with them for routine monitoring," said Lewis. "This new equipment will improve Maine's capacity to make rapid, scientifically sound management decisions that protect the health of Maine shellfish consumers while preserving opportunity for Maine's shellfish industry."
The Maine Outdoor Heritage Fund conserves wildlife and open spaces through the sale of instant, scratch lottery tickets. With proceeds from ticket sales, grants are awarded twice a year, totaling approximately $700,000 annually.