F R O M   T H E   C R O W E ' S   N E S T
What They Want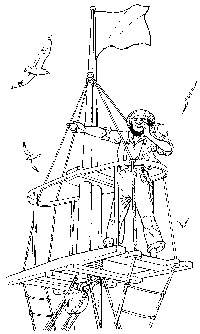 Maine scallops appear to be on the road to recovery. This season meat counts have initiated a split price for the first time since the new management effort began. The DMR reports most boats this season are at their limits by noontime. There are fewer closures this year than last year at this time. Overall things are trending up, according to the Maine DMR.
The management plan is a complicated solution to a complicated problem. Using real-time landings reports keyed to specific areas and the specific stock evaluations of marine scientists, a new level of assessment accuracy has been reached. The roll out of this untested plan was met by fishermen with skepticism, confusion and frustration. Sudden closures with the option to steam all day to another area that might close the day after arriving was a common complaint.
The alternatives, close inshore scalloping indefinitely or fish it beyond recovery, were worse.
This may be the beginning of sustainable management for another Maine fishery. Rebuilding and maintaining diverse Maine fisheries is the foundation on which fishing communities are built. The ability of fishermen to have access to a range of fisheries makes it possible for more of them to make a living.
Every instance of a wild fishery being restored is a case for preserving fishing rights. The restoration of river access to spawning for anadromous fish like shad, alewives, eels, salmon and sturgeon could revive fisheries for each these, provide lobster bait and enormous amounts of prey fish for restoring groundfish stocks. The pressure to own fishery access rights through corporate influence of legislatures and government regulators for the promotion of tradable quota and long leases is real. The visible pressure is on groundfish, glass eels and seaweed.
Aquaculture will compete with wild fisheries, but it should not be allowed to replace them. Shellfish and seaweed aquaculture could produce small businesses that each employ a family or a few employees. Shellfish and seaweed aquaculture could have a net positive effect on the marine environment. Unlike fin fish aquaculture, start-up costs are within reach for a family business. Small scale operations would more likely support local shoreside businesses. The Maine lobster fishery has an effective model for maintaining owner operator scale. Now is the time for Maine fishing families and communities to tell legislators and regulators what they want for their future in fishing.