B A C K T H E N
Fatal Embrace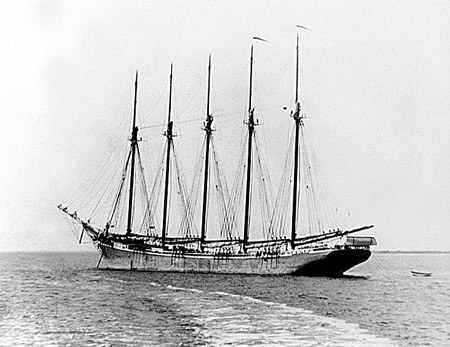 A little over one hundred years ago there occurred one of maritime history's more, if not bizarre, than peculiar disasters at sea. It was a result of the collision of a large 5-masted schooner with the largest 4-masted schooner ever built.
December 17, 1902 was a clear, very cold night with temperatures below zero. New England had been in the grip of a cold spell and an energy crisis. The 267-foot 5-masted Louise B. Crary and the 274-foot 4-masted Frank A. Palmer were both sailing from southern coal ports, heavily laden with coal. They had passed one another at various points on a passage they had both made many times.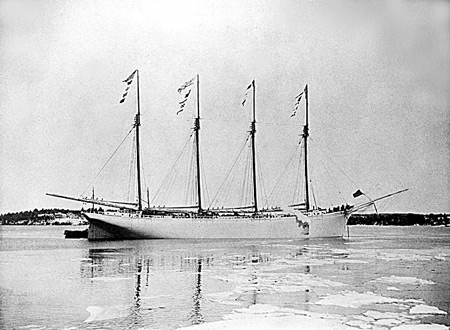 Some reports have the ships bound for Boston, but according to W.A.Baker's A Maritime History of Bath, Maine, after rounding the tip of Cape Cod they crossed Massachusetts Bay splitting tacks, crisscrossing each other's course, as they beat towards Portland in a northeast gale. At about 7 p.m. they were off Thatcher's Island, Cape Ann. The Palmer was on a starboard tack with the right of way. The Crary's mate believed he could cross before the bow of the Palmer. It soon became clear that the Crary didn't have the speed to make it. The 3,700 tons of coal they each carried in their hulls created momentum that made stopping a long process.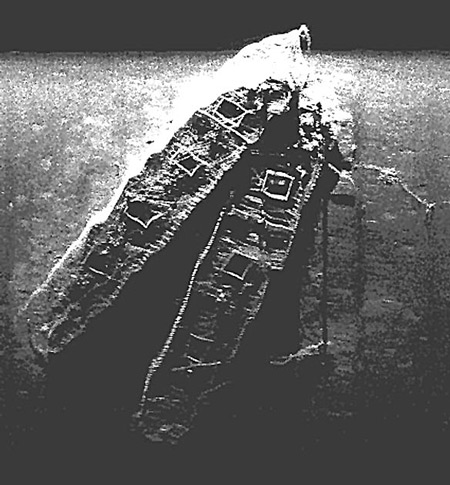 The Crary plowed into the forward port side of the Palmer, impaling her and seriously damaging both ships. The impact locked them in a fatal embrace. Horizontal momentum from tons of coal suddenly shifted to vertical momentum. Reports show the Palmer disappeared in five minutes taking some of the crew down more than 400 feet.
Of the 21 crewmen on both ships, 15 made it into a Palmer lifeboat. Four of these men died of exposure and one committed suicide by jumping overboard. After drifting for four days they were found by the fishing schooner Manhasset about 60 miles southeast of Highland Light in Truro, on Cape Cod.
Both ships not only died together, they were born in the same neighborhood, built at Bath, Maine. The 2,014-ton Frank A. Palmer was built in 1897 by Nathaniel T. Palmer. Son of a builder and ship owner, himself a rigger and seaman, Palmer designed and built this as well as five other big schooners from 1894 to 1898. He owned and managed all of them. On Water St. at the footof South St., the Palmer yard had evolved, as had many yards on the Kennebec, out of a family business which remained owner/ operators. It took 475 tons of white oak, 750,000 feet of hard pine and 160 tons of iron to build the hull of the Frank A. She spread 8,400 yards of canvas, with 1,200 of that in the spanker. Although a collier, the after cabin was more like a luxurious home than a ship's cabin, featuring many species of wood, carvings and gold leaf trim. In its short life, the Frank A. Palmer got into more than its share of mishaps, which included a couple of collisions with steamers and running aground off Martha's Vineyard.
The 5-masted Louise B. Crary was built in 1900 by a large contract yard just downstream from the Palmer's. The New England Company shipyard built the Crary for Ellis G. Potter of New York. This yard had evolved out of shipyard mergers of the 1880s, and built ships until 1906. The Louise B. Crary was one of 143 built at the yard between 1884 and 1906.
The shipwrecks were originally located by John Fish and Arnold Carr of American Underwater Search and Survey over 22 years ago in their search for the steamship Portland, however good images were not available at that time. Located in what is now the Stellwagen Bank National Marine Sanctuary, the side scan shown here is the most recent and best image of the wrecks on the bottom.